Contractor's CEO and finance chief reap rewards of long-term incentive plan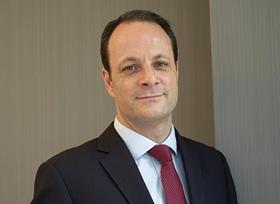 Bosses at Kier have been handed shares worth hundreds of thousands of pounds as part of a long-term incentive agreement for senior executives, just weeks after the firm admitted rocketing debts.
Haydn Mursell (pictured), the contractor's chief executive, was yesterday awarded 103,910, worth nearly £930,000, as part of Kier's 2010 Long-Term Incentive Plan.
Bev Dew, the firm's finance director, and Claudio Veritiero, Kier's chief operating officer, who was appointed to the role back in August, both received 67,324 shares each under the same scheme, worth £603,000.
Kier said the price used for calculating the awards was £8.95 a share.
Last month Kier announced its profit for 2018 had risen 9% to £137m, but revealed that its average net debt had risen 17% to £375m. It promised action to deal with the debt under a new strategy, 'Future Proofing Kier'.
When the contractor announced its annual figures Mursell highlighted the group's payment arrangements with its suppliers, claiming the business often paid out quicker than it got paid by clients.
But earlier this month, Kier was blasted by a subcontractor who was giving evidence to MPs on the business select committee. Tony Davis, managing director of Essex firm AMD Electrical, said he refused to subcontract with Kier because the firm had a reputation as a "poor payer".