Insulation products group predicting a 15% annual operating profit increase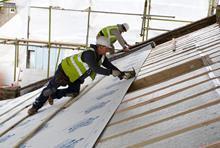 Insulation specialist Kingspan said it expects to deliver a 15% hike in operating profit for 2018 despite economic concerns and little sign of a deal with the EU over Brexit.
The Irish firm, which generates a quarter of its revenues from the UK and operates in 60 countries around the world, said its end markets remained "reasonably stable", despite global jitters.
It expected to report an operating profit of around €440m (£384m) for the year ended 31 December 2018 and forecast net debt for the year would be around €750m (£655m), up 62%.
Back in August Kingspan had reported tougher trading and didn't expected this to change "until clarity emerges from the ongoing negotiations with the EU."
In a trading update issued today the firm said UK sales of its insulation panels had improved in the third quarter but activity on medium and smaller-sized projects remained subdued, while insulation board sales in the UK had become more competitive.
Turnover in the nine-month period to 30 September rose by €3.18bn (£2.8bn), up 18% year-on-year.
Last year the group reported turnover of €3.7bn (£3.2bn) and a pre-tax profit of €346.5m (£302m).