Junior minister from the Department for Work and Pensions becomes fourth housing minister in two years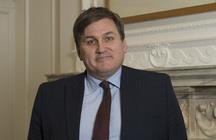 Former deputy mayor of London Kit Malthouse has been named as the new housing minister
Malthouse (pictured), who is currently a junior minister Department for Work and Pensions, has been named as the replacement for Dominic Raab, who was promoted to Brexit secretary this morning.
Downing Street confirmed the appointment in a tweet, saying the Queen was pleased to appoint the member for North West Hampshire to the role.
The revolving door of housing ministers continued following Raab's departure after barely six months in post.
Prime minister Theresa May had announced Raab's promotion to the Cabinet following David Davis' resignation as Brexit secretary last night.
The Queen has been pleased to approve the appointment of @kitmalthouse as Minister of State for Housing at @mhclg

— UK Prime Minister (@10DowningStreet) July 9, 2018
Raab was appointed housing minister in January at the time the Department for Communities and Local Government was rebranded as the Ministry of Housing, Communities, and Local Government in an attempt to underscore the importance of the housing agenda to the government.
Raab replaced Alok Sharma in January, who had himself replaced Gavin Barwell – who lost his marginal Croydon Central seat in May's snap general election last year.
Barwell had served as housing minister for less than a year, having been appointed to the role by May when she succeeded David Cameron as prime minister just under two years ago.
Before joining parliament, Malthouse was a member of the London Assembly. He served as deputy mayor for policing between 2008 and 2012 and deputy mayor for business and enterprise from 2012 to 2015.
Commenting on the announcement, Brian Berry, chief executive of the FMB, said: "Another week, another Housing Minister. The industry has long bemoaned the turnstile approach to this crucial role but the pace of change is quickening.
"We're now going through two Housing Ministers a year. Dominic Raab, Kit Malthouse's predecessor, was only in post for a mere six months and before that, Alok Sharma was in the position for just seven months.
"The Government claims that housing is a priority yet this constant chopping and changing in terms of the person leading the charge would suggest otherwise."
"Having said this, we congratulate Kit Malthouse, who we look forward to working with to tackle the various challenges. We are hopeful that he will be given longer to take housing policy forward than his predecessors."
Russell Pedley, co-founder of Assael Architecture, said: "The housing brief seems to be the most unwanted job in politics and while not without challenges, whoever takes over will find a host of opportunities to make a difference – from modular housing technology to billions of pounds of new investment waiting to pour in from institutional investors."
Melanie Leech, chief executive British Property Federation, said: "The housing sector will be frustrated with yet one more housing minister, but there are extenuating circumstances and the national interest must come first. However, if the government is to meet its aspirations of delivering 300,000 new homes each year, this revolving door of housing ministers must stop.
"What's most important now is that we do not lose momentum behind the housing policies born out of the Housing White Paper, which supported housing of all tenures including build-to-rent. We welcome Malthouse, we hope his previous experience at City Hall and Westminster City Council means he can hit the ground running, and we look forward to working with him to undo the damage caused by the acute undersupply of new housing over the past few decades."