EXCLUSIVE: Labour and Lib Dems pledge support for housebuilding and apprenticeships in open letters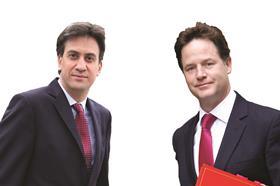 Labour leader Ed Miliband and his Liberal Democrat rival Nick Clegg have emphasised their commitments to dramatically increase housebuilding in open letters to the construction industry, published exclusively in Building this week.
The two party leaders both put rapid expansion of housebuilding and boosting apprenticeships at the heart of their offer to back the construction industry. They also threw their weight behind key parts of Building's Agenda 15 campaign, which aims to convince politicians of the importance of adopting policies that will better help construction to support the UK economy.
Labour leader Miliband (inset, left) pledged support for the sector through greater devolution of powers to city and county regions; the setting up of an independent national infrastructure commission to determine long-term priorities; and through the transformation of vocational education for "a forgotten 50%" who do not go to university.
Miliband also pledged to launch an inquiry into blacklisting in the industry which would, in his words, "examine the unanswered questions which remain".
Meanwhile, Clegg (inset, right) said the Liberal Democrats had "started to get Britain building again" in coalition government with the Conservatives, but added "our sights are set much higher" at a target of doubling housebuilding to 300,000 homes a year.
Clegg also said his party would support the industry through giving councils powers to borrow to build, expanding apprenticeships and rolling out insulation programmes.
The letters, published in full on pages 24-25 of this week's issue, are a response to Building's Agenda 15 campaign.
Miliband and Clegg are the first to respond to Building's invitation to the leaders to set out their key messages to the industry.
Both cited Building magazine's campaign, identifying policies that they said chimed with our goals - in Miliband's case, the setting up of an independent infrastructure commission, and in Clegg's case, support for a new generation of garden cities.
Miliband also addressed blacklisting on the campaign trail in Scotland this week, saying that, if elected, Labour would launch an inquiry into blacklisting, and slamming the practice as "odious".
He said: "It will have one purpose and one purpose alone: to put an end to blacklisting right across the United Kingdom."