Sir Michael Lyons says England needs to "go well beyond" 200,000 homes a year target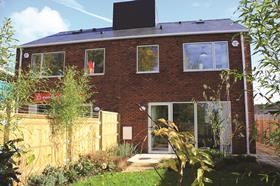 The man tasked with drawing up the policy behind the Labour's pledge to see 200,000 homes a year built by 2020 has said he is now looking to significantly raise the target.
Sir Michael Lyons, who was asked by Labour leader Ed Miliband to conduct a review of housing policy last September, said the country needed to "go well beyond" the ambition for 200,000 homes a year to be built in England.
Speaking at the Home Builders' Federation's (HBF) annual policy conference this week, Lyons said he had been looking at the target in the light of recent steep rises in output from major housebuilders. "What we're saying is we need at least 200,000 homes a year by the end of the next parliament. But that simply can't be the limit of our ambition," he said. "In truth we need to go well beyond that if we are to provide everybody with the chance for the security of a decent quality home."
Lyons' comments came as an analysis by the HBF was released showing that 260,000 homes would need to be built by the private sector in England each year in order to reduce the long-term trend in price inflation. It said one million fewer private homes have been built over the last decade than were needed.
We will need to go well beyond 200k if we are to provide everybody with a decent quality home

Sir Michael Lyons
Lyons said he would not recommend major changes to the planning system as part of his review, and that he would advise Labour to offer developers a "deal" for access to more development land in return for the industry building out sites more quickly.
He also called on the industry to make a concerted effort to improve its image in a bid to limit opposition to development: "Traditional perceptions exist that the industry is in it for a quick buck, delivering the lowest quality housing it can get away with, and hoarding land. You collectively need to demonstrate that you deserve the trust of the public at large."
At the same event, shadow housing minister Emma Reynolds said a future Labour government would reinstate rules requiring housebuilders and housing associations to take on apprentices on all publicly-funded housing projects. "Where the government is giving grants, we need to be getting bang for our buck, and that means apprenticeships, training and skills for local people," she said.