Analysis of government's national infrastructure plan shows just 18 of 576 projects are under construction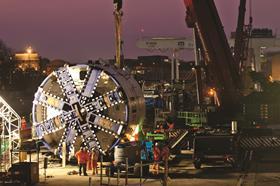 Only 18 of the 576 major projects identified in the government's national infrastructure plan are under construction, according to figures compiled by the Labour Party.
The Labour Party analysis of progress made against the government's national infrastructure plan shows that just 1% of the projects identified are operational and just 18 are now under construction. It said just seven have been completed.
The release of the analysis comes ahead of a debate in parliament today, where Labour plans to attack the government's slow progress in delivering infrastructure.
Labour say most of the schemes completed are road projects started under Labour, including one begun in 2007.
Rachel Reeves, the shadow chief treasury secretary, said: "The Government's record on infrastructure is one of failure of ambition and failure of delivery.
"Even of those projects which have not been cancelled, government figures show just one in 100 have been completed and fewer than one in five have started construction.
"The Chancellor must put this right and genuinely bring forward long-term infrastructure investment, including building thousands more affordable homes. Now is exactly the right time to be making these investments. Not only would it help to kick-start our flatlining economy and get construction workers back to work."