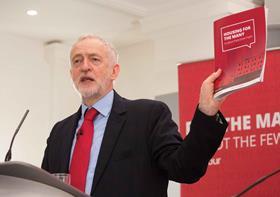 Joint ventures between private developers and Labour-run London councils risk being scrapped if the party wins a number of key boroughs in the capital in next month's local elections.
Left-wing activists – led by Jeremy Corbyn-supporting groups such as the Momentum organisation – in a number of councils are looking to boot out those Labour politicians who would otherwise sign up to private-public partnerships.
The north London borough of Haringey has deselected a number of centrist councillors as candidates after local activists fought against the council's plans to set up a joint venture with Lendlease aimed at redeveloping a town centre and neighbouring council estate.
Claire Kober, who pushed through the Haringey Development Vehicle joint venture, is stepping down from Haringey council as leader rather than face being dropped after the election.
A Labour insider said there was increasing grassroots pressure on individual councillors. "This might have a chilling effect on the housing and regeneration policies that councils go for. They've seen what happened to Claire and will see that if they fancy carrying on as leaders their range of policies are more constrained."
Local Momentum groups have mobilised protests against plans by the Labour-run administrations in the south London boroughs of Lambeth and Southwark to regenerate council estates.