Arcadis report finds lack of investment in new and replacement buildings and infrastructure could threaten UK's economic recovery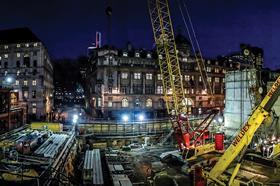 A lack of investment in new and replacement buildings and infrastructure could threaten the UK's economic recovery, consultant Arcadis has warned in its annual Global Asset Performance Index report.
Just 28% of the UK's GDP, or £412bn, was generated from built assets in 2013, compared to a global average of 40% and an average for advanced economies of 35%.
The firm said the UK recent efforts to "sweat its built assets to secure best value" had helped make them "very efficient at generating GDP", but it warned "greater investment" was needed, particularly in the housing, education and social care sectors.
Arcadis forecasts the performance of the UK's built assets will improve by just 18% over the next decade, below the average for advanced economies of 21%.
Arcadis warned: "The UK government and private sector need to accelerate investment in buildings and infrastructure to reinforce future economic growth."
The report examined the income generated by buildings, infrastructure and other fixed assets across 30 countries that collectively represent 82% of global GDP.
The 30 countries' built assets generated £16.1tn of income in 2013, with China leading the pack at £4.1tn, followed by the USA at £3.3tn.
Mexico and Turkey generated the highest proportion of income from their built assets at over 60% of GDP due to their low labour costs and large industrial sectors.
Russia is the least reliant on built assets for generating GDP, with just 14% of economic output attributable to built assets, which Arcadis said "highlighting a need to invest in the quality of its infrastructure".
The performance of China's built assets is forecast to grow the fastest over the next decade, by 77%, followed by Saudi Arabia at 70% and Indonesia at 66%.
The performance of Europe's built assets is not expected to improve greatly over the next decade due to low levels of replacement of its existing asset base, with Germany and France ranking poorly alongside the UK, while Italy is expected to improve the least well of all 30 countries at 8%.
Commenting on the UK, Simon Rawlinson, Arcadis' head of strategic research and insight, said: "Whilst it is good news that the UK extracts better than average economic returns from its built assets compared to other advanced economies, if it is to remain competitive on a global stage, it needs to both invest in new assets and further improve the performance of what it already has.
"The UK risks a future of enduring problems due to the quality of its ageing infrastructure which could result in weakened economic growth."
Built asset global ranking
Country Built Asset Income 2013 (£) *
1. China 4.1tn
2. USA 3.3tn
3. India 1.2tn
4. Japan 1.1tn
5. Germany 600bn
6. Mexico 589bn
7. France 487bn
8. UK 412bn
9. Brazil 377bn
10. Turkey 370bn