Country's biggest private contractor falling behind peers in getting bills paid quicker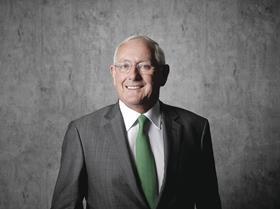 The country's biggest private contractor is barely making any progress in improving its average payment time just months after its chairman Ray O'Rourke promised to tackle the issue head on.
Figures the firm published yesterday, which it is required to do under government legislation, show the average time taken to pay its invoices between 1 October 2018 and 31 March 2019 was 52 days – just one day less than the previous six months.
But the firm said it had not paid 45% of its invoices that were due within the agreed terms – up from 42% in the first half of its financial year.
It made improvements in payment time in two of the three date range criteria the government uses but its longest standard payment period remained at 91 days.
In percentage terms, the firm's improvement on average payment time over the two six month periods is just 1.9%.
The latest figures for the two previous slowest payers among the top 10 contractors and housebuilders showed Balfour Beatty had cut its average payment time by four days to 50 days – a 7% improvement – while Kier sliced two days off to 52 days, an improvement of 3.7%.
Laing O'Rourke's financial year finished at the end of last month and last October, when its first set of payment results were released, O'Rourke (pictured) pledged: "We will focus on improving payments to our supply chain during the next financial year."
But he said the government needed to step up as well, weeding out inefficient procurement policies, binning outdated "adversarial" contracts and "settling its own accounts promptly".
The news comes just a day after Laing O'Rourke, alongside Balfour Beatty and Interserve, was suspended from the government's Prompt Payment Code and will not be allowed back until it pays its suppliers on time.
In its payment practice report the contractor made reference to the suspension, saying it had been "temporarily suspended for failing to pay 95% of invoices within 60 days".
It added: "Twenty-four out of 25 construction firms by revenue are also failing to meet this target."
In its financial results for the year to 31 March 2018, its most recent which it finally filed in February more than four months late, the contractor said it "aspires to pay its supply chain partners in line with the best within the market".
Comparing Laing O'Rourke's payment figures
| | 1 April 2018 to 30 September 2018 | 1 October 2018 – 31 March 2019 |
| --- | --- | --- |
| Average time to pay invoices | 53 days | 52 days |
| % paid within 30 days | 24% | 26% |
| % paid in 31 to 60 days | 35% | 31% |
| % paid in more than 61 days | 41% | 43% |
| Invoices due but not paid within agreed terms | 42% | 45% |
| Shortest standard payment period | 7 days | 7 days |
| Longest standard payment period | 91 days | 91 days |