Plan to raise £30m with stock market float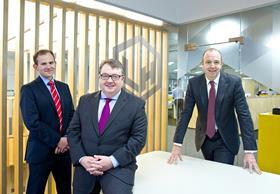 Lakehouse has announced its intention to float on the stock exchange.
The Essex-based construction group has joined a number of companies who are due to float before the general election in May, and is expected to raise £30m in an initial public offering to institutional investors.
The floatation plans follow on from a strong performance in 2014, with the group's operating revenues growing to £345.2m in the year ended 30 September 2014, from £151.5m in 2012.
The company, which specialises in regeneration, construction, energy services and compliance employs 1,250 staff across the UK in 18 offices.
Lakehouse works primarily on residential, schools and public buildings - with a large number of public sector contracts in the UK.
Stuart Black, executive chairman of Lakehouse said: "We are delighted to be pursuing a potential listing on the Main Market and believe that this is the right time for the business to do so.
"Lakehouse has a strong financial and operational track record, strong client relationships and a focused strategy designed to exploit the growth opportunities in the market places in which we operate.
"The directors and senior management team, who have extensive experience and expertise in the support services and energy sectors, will be very much aligned to the interests of all stakeholders and the planned future success of the Group."
Lakehouse rose to 77th place in Building's Top 150 Contractors and Housebuilders 2014 table, up from 93rd last year.
Lakehouse also announced the appointments of Chris Geoghegan as senior independent non-executive director of the company and Jill Ainscough and Johnathan Ford as non-executive directors of the company conditional on the float going ahead.