Firm's administrator Deloitte has confirmed 109 redundancies at the cladding and roofing contractor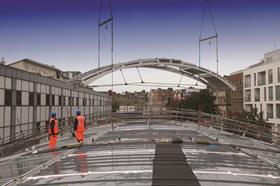 Specialist cladding and roofing contractor Lakesmere has entered administration.
Deloitte has confirmed it was appointed as the administrator yesterday of Lakesmere's parent company Graceful Holdings Ltd, as well as Lakesmere Group Ltd and Lakesmere Ltd
Winchester-based Lakesmere employed 241 across the UK of which 109 have now been made redundant, Deloitte said.
Several of the firm's former employees have posted on social media platforms such as LinkedIn that the firm has entered administration and that they have been made redundant.
Lakesmere's Northern Ireland facades business McMullen Facades, which employs 275 staff, is not part of the insolvency and continues to trade as does the firm's other overseas subsidiaries.
Deloitte said it is looking at options for the sale of McMullen.
Richard Hawes, one of the joint adminstrators at Deloitte appointed by Lakesmere, said: "Lakesmere Limited has experienced financial challenges, arising from a number of unprofitable contracts.This has resulted in Lakesmere Limited being placed into administration."
The firm has worked on several Crossrail stations, including Whitechapel, Liverpool Street Station and Tottenham COurt Road and has also been working on the revamp of London Bridge Station for Network Rail
In its most recent accounts for the year ended January 2016 Lakesmere reported a £118m turnover and pre-tax profit of £3.5m.
The firm's financial director Mark Johnson stepped down from his role on 16 October, according to a document filed at Companies House.
In 2015, six of Lakesmere's executives carried out a management buyout of the firm led by Johnson who became joint owners of the company along with Mark Davey who led the first management buy-out of the firm from contractor Walton in 1993.