Developer Land Securities will submit plans for permanent solution to solar glare problem from Walkie Talkie next month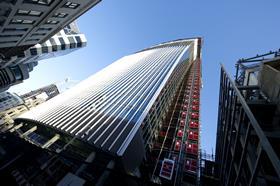 Developer Land Securities will submit plans next month to alter its 37-storey Walkie Talkie tower to deal with solar glare problems that beam extreme heat on to City of London streets below in summer.
A temporary scaffold screen was erected while a permanent solution was drawn-up.
In a statement today Land Securities said: "A planning application for the solution to the solar glare issue will be submitted next month."
Land Securities and joint developer Canary Wharf have previously told Building the solution will involve the addition of external shading elements to just the southern facade and will cost "low single digit millions", within the £500m project's existing contingency fund.
The building is now 64% pre-let with a further 23% in solicitors' hands.