Developer not planning to build any new speculative schemes in London after the completion of Nova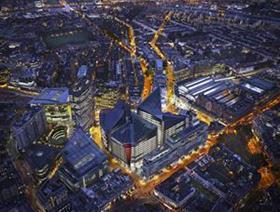 Developer Landsec has reduced its losses by almost two thirds to £33m during the first half of its current financial year.
The firm attributed this largely to a "reduction in capital and other items", adding that its property valuation deficit was "significantly smaller" during the period, but incurred higher costs on the redemption of some of the company's bonds.
For the same period last year the firm recorded a loss of £95m. Revenue rose 5% to £396m for the six months ended in September, up from £376m last year.
Landsec, which unveiled a brand overhaul earlier this year, brought to a close its £3bn speculative pipeline in April with the completion of the first phase of its mixed-use development Nova, next to Victoria train station in London.
The £2.2bn office, retail and apartment scheme was completed late and over budget, with Landsec in May blaming the "complexities of construction – together with competition for labour in a busy sector". The project, built by Mace, was also one of two which the contractor blamed for a 70% fall in its pre-tax profit last year.
But Landsec is progressing with plans for its office-led scheme at 21 Moorfields in the capital and has submitted revised planning proposals to provide a 564,000ft2 building, having pre-let the building to Deutsche Bank.
The firm added that it was working on plans for future schemes, including at a site behind Piccadilly Circus' famous advertising boards. The replacement of the boards with a new single screen has freed up 142,000ft2 of space for development.
Landsec also has a further 200,000ft2 of planned development at Nova East and potentially a 500,000ft2 mixed-use scheme in Southwark.
Robert Noel, chief executive at Landsec, said: "In London, we are happy not to be delivering speculative buildings in the short term.
"Over the next six months, we will continue to focus on asset management and preparations for future investment and development."
He added: "Negotiations with the EU are moving more slowly than businesses would have hoped. Coupled with political uncertainty, this is leading to caution."