Developer has appointed BIG to come up with plans to replace 1980s building
BIG has revealed proposals to replace a large 1980s office building on a historic site beside the Thames in central London.
Red Lion Court is next to the former Financial Times headquarters in Bankside which is also slated for redevelopment. The pair were identified in Southwark's local plan as a "key development opportunity".
The buildings are located between Southwark Bridge and Cannon Street rail bridge. Red Lion Court's other neighbour is the Anchor pub from where Samuel Pepys is said to have watched the Great Fire of London.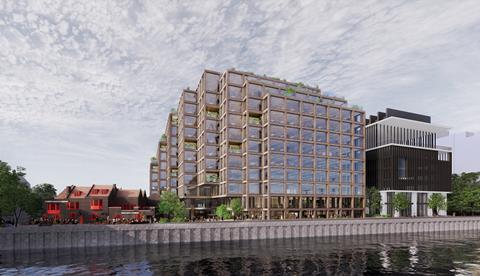 Landsec, which bought the red-brick office complex in 2005, wants to build 324,000sq ft of workspace and retail with 14,000sq ft new semi-public spaces. These will include a north-south pedestrian route between Red Lion Court and the vacant former FT building, One Southwark Bridge Road.
It appointed BIG to design a feasibility study for Red Lion Court which has just gone out for consultation. The proposals involve setting the building back to widen the Thames Path.
Cafes or shop units will help activate what is currently a blank facade at towpath level.
Landsec said it wanted the ground floor to be publicly accessible as a secondary daytime route from the river to Park Street. It is also proposing to put gates on the open air route to allay residents' concerns about anti-social behaviour at night.
The developer said it had "carefully considered" whether the existing building could be retained but concluded it was "unable to meet the changing requirements of occupiers" through a refurbishment.
Some of the basement and substructure will be retained.
BIG is also designing a scheme next to the old art deco Daily Express building on Fleet Street.
Teams from Lendlease, Mace and Multiplex are chasing the design and build job at 120 Fleet Street. It is worth more than £300m with a winner expected next month.
The 21-storey block at the eastern end of the famous thoroughfare will have a series of stepped roof terraces and will involve demolishing the existing River Court Building, the former home of Goldman Sachs, which has moved to a Multiplex-built HQ around the corner.