Developer buys L&G's share and half of Peel's two days after announcing £190m U&I takeover
Landsec has snapped up a majority stake in MediaCity, the northern base of the BBC and ITV in Salford in a £426m deal.
The announcement comes just two days after the firm revealed it would buy rival developer U+I for £190m.
Landsec now owns 75% of the media hub, which has a gross value of nearly £570m and is where BBC Breakfast and Coronation Street are filmed.
The site was previously owned by a 50:50 JV between Legal & General and Peel L&P. The acquisition sees Landsec buy L&G's share plus half of Peel's share, with the latter retaining a 25% stake and continuing to serve as asset and development manager.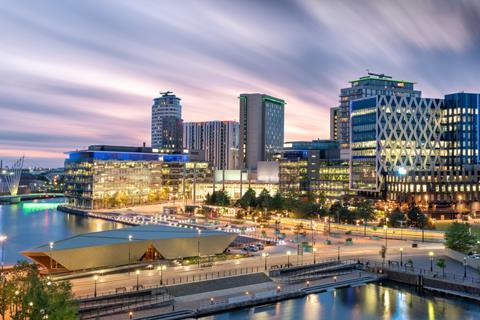 Landsec said the deal includes £294m of debt, reducing the equity investment to £208m in cash drawn from existing facilities.
The firm, which is due to publish its interim results later this month, said it will also have an obligation to pay up to £15m for building remediation works to be completed after the ink has dried.
The biggest tech and media hub outside London, Media City produces 50,000 hours of content every year and is home to 8,000 residents and staff.
The £500m first phase of the development, which was designed by architect Chapman Taylor, was completed a decade ago by main contractor Lendlease.
Comprising nearly 1.5m sq ft across 11 buildings, it is 96% let and yields £31.1m of net operating income per annum.
The £1bn second phase, also designed by Chapman Taylor, is set to double the size of the site with 10 new plots covering 7.7ha and has already seen the completion of two residential towers and a mixed-use building.
Landsec chief executive Mark Allan said the acquisition was a rare opportunity to invest in a large, mixed-use urban development.
He added: "This acquisition presents us with the opportunity to deploy capital immediately into high quality income producing assets and also to invest further over time through the development of phase two."
Landsec said the move is part of its strategy to provide long-term income generation through mixed-use schemes in London and other major UK cities.
Other Media City tenants include the University of Salford, cereal brand Kellogg's, telecoms firm Ericsson and more than 250 creative and tech businesses.