Thousands of migrant workers on Arabtec jobs down tools in protest over low pay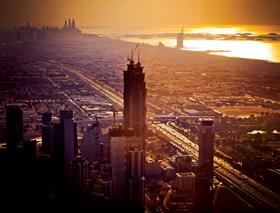 Dubai's largest contractor has been hit by a rare strike by thousands of migrant workers protesting about their salaries.
Arabtec, one of the firms which built the world's tallest building, Dubai's Burj Kalifa, insisted today that the delivery of projects remained unaffected by what it described as a partial labour stoppage, adding it is in discussion with authorities in the United Arab Emirates (UAE) to resolve the dispute.
Thousands of Arabtec workers from countries such as India, Pakistan, Bangladesh and the Philippines, typically paid £100-£130 a month and living on the outskirts of the city in so-called 'labour camps', have been on strike since Saturday demanding improved wages.
Arabtec has said some workers have returned to work but it is understood that many others remain on strike.
Construction sites involved include are understood to include a housing project in Dubai's Al Barsha area and some commercial towers on the main Sheikh Zayed Road and in the Dubai Marina.
Several sites in Abu Dhabi have also been affected, including the £1.9bn Kohn Pedersen Fox-designed Midfield Airport Terminal project.
Arabtec said in a statement: "Arabtec has been working closely with the UAE Ministry of Labour, the Dubai Police and the concerned security authorities to resolve as soon as possible a partial workers stoppage by a limited number of Arabtec labour employees,
"Arabtec reiterates that project delivery timelines have and will not be affected."