Transport department the biggest spending client last month, according to Glenigan figures
Clients handed out nearly £4.2bn worth of work in January – a decrease of almost £4bn from the previous month, according to the latest data from Glenigan.
The figures (see below) reveal the most work was awarded in the private housing sector, with firms here inking deals worth just over £957m – or around 23% of all work awarded in the month.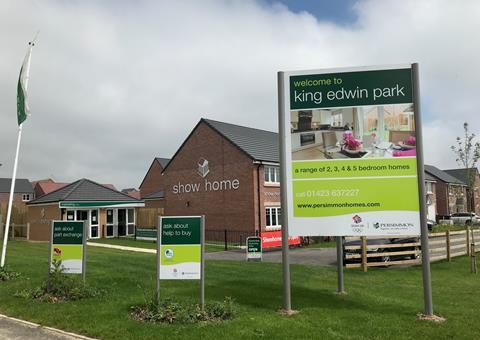 The top spending client was the Department for Transport, which handed out two deals worth £252m, followed by the health department, which awarded 24 projects worth £185m.
The next most prolific sector was infrastructure, with clients here awarding firms £662m of business.
This was followed by those in the education sector, at £485m, and social housing clients awarding £441m worth of work.
Meanwhile, the data has also revealed that £5.62bn worth of projects were approved in January.
The private housing sector was the market with the most approvals, securing permission for 269 schemes worth almost £1.5bn.
In private housing, Redrow and Persimmon secured approval for the most schemes, with the pair each given the go-ahead for four projects.
They were followed by Countryside, Bellway, Lone Star and Barratt who got approval to push ahead with three developments each. This does not include projects that are being developed as joint ventures.
After private residential, commercial achieved the second-highest value of approvals at £830m.
Top spending clients - January 2021
The tables below show contract awards by sector for January put together by Glenigan. They are just a small part of the client information that is accessible through the Building Boardroom Network.
The Building Boardroom Network is an easy to use portal where you will be able to access a wide range of vital business insight including research and tools to help bring your construction clients to life. Find out more at: https://www.building.co.uk/building-boardroom/

Social housing
| Ultimate company name | Total number of projects | Total value of projects |
| --- | --- | --- |
| Department for Transport/Greater Manchester Combined Authority/Stockport Metropolitan Borough Council | 1 | £40m |
| Tyburn Lothian No8 LP | 1 | £35m |
| TCR Properties Limited/The Collective | 1 | £29m |
| London Borough of Wandsworth/Taylor Wimpey/Winstanley and York Road Regeneration | 1 | £27.19m |
| Cassidy Group | 1 | £25m |
Retail
| Ultimate company name | Total number of projects | Total value of projects |
| --- | --- | --- |
| Lidl UK GMBH | 9 | £19.22m |
| Helical Bar Plc | 1 | £15.09m |
| Guy Salmon/Sytner Group Ltd | 1 | £10m |
| Prydis | 1 | £10m |
| St Modwen Properties Plc | 1 | £8.275m |
Private housing
| Ultimate company name | Total number of projects | Total value of projects |
| --- | --- | --- |
| One Heritage Tower | 1 | £160m |
| Moda Living/Scottish Police Authority | 1 | £120m |
| Edinburgh Marina/Granton Central Developments | 1 | £100m |
| Argent Group | 1 | £81m |
| Audley Retirement Villages | 1 | £80m |
Offices
| Ultimate company name | Total number of projects | Total value of projects |
| --- | --- | --- |
| NTT Europe | 1 | £80.4m |
| Bruntwood Estates | 1 | £30m |
| Cromwell Property Group/Stirling Development Agency | 1 | £20m |
| Sunderland City Council | 2 | £15.9m |
| Quilter Financial Planning | 1 | £8.045m |
Medical & scientific
| Ultimate company name | Total number of projects | Total value of projects |
| --- | --- | --- |
| Department of Health | 24 | £184.957m |
| Eagle One | 1 | £40.22m |
| Department of Health/Ministry of Defence/NHS North Yorkshire Clinical Commissioning Group | 1 | £40m |
| Majesticare | 1 | £12m |
| Frontier Estates | 1 | £10m |
Industrial
| Ultimate company name | Total number of projects | Total value of projects |
| --- | --- | --- |
| Next | 1 | £125m |
| Mayfair Capital | 1 | £50m |
| Goodman Group | 2 | £43.59m |
| Allerdale Borough Council | 1 | £35.74m |
| IDI Gazeley/L&Q Estates | 1 | £26.2m |
Hotel & leisure
| Ultimate company name | Total number of projects | Total value of projects |
| --- | --- | --- |
| Downing/Snow Hill Developments/St Chads Hotel | 1 | £25m |
| Rushcliffe Borough Council | 1 | £25m |
| Newco 8915 Ltd | 1 | £23.51m |
| University of Oxford | 1 | £15.097m |
| Warwickshire County Cricket Club | 1 | £13m |
Education
| Ultimate company name | Total number of projects | Total value of projects |
| --- | --- | --- |
| Northern Regional College | 2 | £111.5m |
| Department for Education | 2 | £57m |
| Highland Council | 1 | £46.5m |
| Suffolk County Council | 4 | £32m |
| London Borough of Southwark | 1 | £19m |
Civil (infrastructure)
| Ultimate company name | Total number of projects | Total value of projects |
| --- | --- | --- |
| Department for Transport | 2 | £252m |
| Norfolk County Council | 1 | £36.047m |
| Greater London Authority | 1 | £35m |
| Kent County Council/Network Rail | 1 | £34m |
| Calderdale Borough Council | 1 | £27m |

* private housing awards data refers to external contracts only and does not include frameworks
** projects awarded by a joint venture are listed independently to both single party clients