Design team lined up for UCL East campus, part of Olympicopolis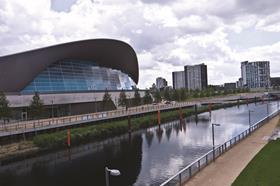 A design team led by LDA Design is poised to win the hotly-sought-after contract to masterplan the UCL East campus, a key part of the Olympicopolis development in east London's Queen Elizabeth Olympic Park.
LDA Design and team partners Nicholas Hare Architects, Buro Happold, EC Harris, Studio Weave, Momentum Transport Planning and Soundings are close to securing the masterplan role to design a new campus for the university on a 4.5ha site south of the aquatics centre in the Olympic park.
Building understands the LDA Design-led team has seen off competition from shortlisted bids led by Aecom, Lifschutz Davidson Sandilands, Make and Allies & Morrison (see box). Confirmation of the appointment by UCL and the London Legacy Development Corporation is expected imminently.
It is thought UCL is planning more than £100m of development for the campus. The first phase of UCL East will be a 50,000m2 development, and will incorporate: UCL Generator, the university's first school of design; the UCL Museum of the Future, which will feature immersive exhibition galleries, collections libraries, studio and performance spaces; and the UCL Centre for Experimental Engineering. This phase is due to be ready for the 2018/19 academic year.
The campus forms part of the wider planned Olympicopolis educational and cultural quarter, which is also earmarked for offshoot developments by the Victoria & Albert Museum, the University of the Arts and Sadler's Wells.
The London Legacy Development Corporation (LLDC), which is overseeing the development of the Olympic Park, is also in talks with American museum and research organisation the Smithsonian over creating a presence at the site.
The government has promised £141m of public funds to help kickstart the Olympicopolis quarter.
The overall development is scheduled for completion in 2020-21.
A spokesperson for LLDC said: "The Legacy Corporation and UCL are currently in the process of finalising the appointment of the masterplanning team."
LDA Design declined to comment.

The other bidding teams
■ Aecom with Stanton Williams, Fluid and Access = Design
■ Lifschutz Davidson Sandilands with Expedition Engineering, WSP Group, Townshend Landscape Architects, Useful Simple Group, Gardiner & Theobald, Quod, PFB Construction Management Services, Arup University, Sturgis Carbon Profiling, Alexi Marmot Associates, People Friendly Design, Space Syntax and PPS Group
■ Make with Gehl Architects, LDA Design, Aecom, London Communications Agency, The Neighbourhood, David Bonnett Associates and Quod
■ Allies & Morrison with O'Donnell & Tuomey, Buro Happold, Gross.Max and Gardiner & Theobald