Peabody has appointed a consortium to set out a plan for the estate's overhaul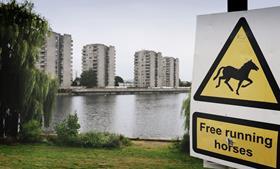 Housing association Peabody has appointed a consortium headed by LDA Design to set out its plans for the regeneration of Thamesmead in south-east London.
The design, which will be called the Landscape and Green Infrastructure Strategy, will oversee the transformation of Thamesmead's waterspace, landscape and public realm.
The consortium includes: SNC Lavalin/Atkins, Land Management Services, Green Infrastructure Consultancy, Vivid Economics, Robert Bray Associates and architect Project Orange.
Peabody owns 65% of the 760ha of land in Thamesmead and 85% of the developable land.
The strategy will contribute to the £1bn regeneration programme in the area, which involves the GLA, TfL, and Bexley and Greenwich councils.
Thamesmead currently has a population of 46,000, which is expected to rise to 100,000 in the next 30 years.