Firm seeking to expand and become a 40 to 50-strong business within five years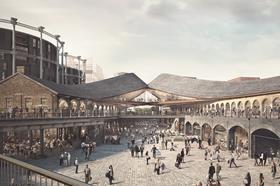 Project manager LeadManage is relaunching itself as Opera as it seeks to expand to become a 40 to 50-strong business within five years.
The relaunch sees Dan Whittingham join as co-managing director alongside Paul Bailey, formerly LeadManage's deputy managing director, while Seth Cooper assumes the role of head of corporate services.
All three take an equity stake in the business alongside its founders Geoff Heppell, Nigel Clarke and Paul Daniels.
Launched in 2013, the firm has hit £2m turnover and has a core staff of 20, having focused on the retail, corporate services and commercial development sectors working for clients including Hammerson, Argent and The Office Group. Projects include supporting Argent's Thomas Heatherwick-designed Coal Drops retail complex at King's Cross (pictured).
Whittingham said the focus under the new brand would be to pool the experience of the senior team to expand the firm's offering.
The relaunch and sharing of equity was prompted by the founders "wanting to focus on succession", but the founders will "still be very much involved", Whittingham said.