Problems on mixed-use job sees price tag jump £16m
The cost of ISG's contract to revamp Waterloo's former International Eurostar Terminal has jumped by nearly 40% because of leaking roof.
Developer London and Continental Railways (LCR) said the £16m hike in price was down to dilapidation works relating to "certain asset management decisions, related to a roof leak".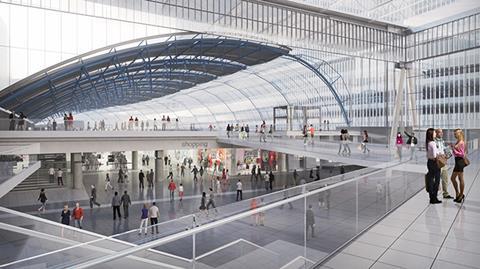 ISG won the job two years ago to turn architect Grimshaw's glass-roofed structure into a retail, leisure and cultural development.
The firm began work last spring to revamp up to 135,000ft2 of space at the former terminal, which was the London station for Eurostar services to and from the continent for 13 years before the railway's terminal was relocated to St Pancras in 2007.
But in a notice posted on the Official Journal, LCR revealed costs on the job had gone up from £41.7m to £57.7m.
It said: "It has become necessary for dilapidation works to be carried out to certain enabling works previously carried out on the site by another contractor.
"It was not possible for LCR to have foreseen that these dilapidation works would become necessary as neither LCR nor ISG could have entered the site during the previous contractor's occupation".
ISG is now having to remedy the dilapidation works, carried out by an unnamed contractor, at a cost of £4.5m.
It said that the site's management suite, control room, staff welfare facilities and a waste compactor would have to be relocated due to the dilapidation works, and a toilet entrance would also need to be altered. Additional demolition work was also increasing the cost, it said.
The scheme, part of a wider £200m transformation of Waterloo station, had been due to complete in early 2021. A revised schedule has not been announced.
A total of 40 new units will be created across three floors, including a new mezzanine level, and will sit below the existing platforms.
The wider project team includes Arcadis as project manager, contract administrator and structural engineer, architect Corstorphine + Wright, services engineer QODA and cost manager RPS.
An LCR spokesperson said: "We are currently working through a programme of modifications to our original design. All of the changes will ultimately help to deliver a better experience for our customers and staff."
ISG declined to comment.