Cover Structure was working on Aberdeen Exhibition and Conference Centre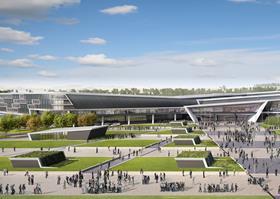 Leeds-based roofing and cladding specialist Cover Structure has gone under, with the family-owned company entering administration, according to the main contractor on one of its jobs.
Cover Structure, which has been in business since 1991, was acting as the main cladding contractor on the £333m Aberdeen Exhibition and Conference Centre (pictured). Robertson is the main contractor on the job.
Robertson chief executive, Derek Shewan, said: "Robertson was made aware on Friday 16 March that Cover Structure, the subcontractor handling much of the cladding work on the AECC, was unfortunately about to go into administration.
"We worked proactively over the weekend to find a solution that would ensure the continuation of the project, while securing the jobs of the contractors employed by Cover Structure.
"It is envisaged that Robertson will take over the remainder of the sub-contract directly, including securing equipment and materials, while maintaining the existing operatives in their roles.
"We do not anticipate any delay to the completion of the AECC project."
Cover Structure staff took to LinkedIn, to confirm the news and on the hunt for new jobs.
One said: "Confirmed today. A lot of good people both on site & in office losing out. Currently looking for new position so would appreciate any leads. Thanks."
The firm is the latest in a string of specialist cladding contractors to go under in recent years.
The collapse of £119m-turnover Lakesmere last November, which resulted in the loss of 109 jobs, was the most high-profile of a long list of cladding contractors to have gone under, from Schmidlin in 2006, to Red Architectural and Baris in more recent times.
All calls to the company headquarters today went unanswered. Cover Structure management has been contacted for comment.