City council approves development of six-acre site in Leeds' South Bank district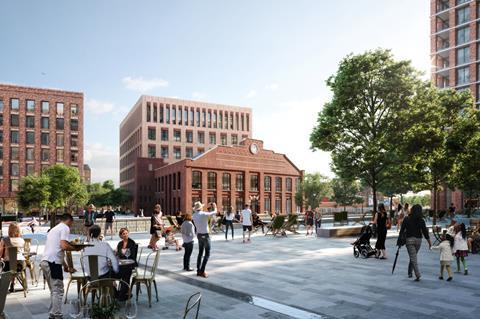 Leeds city council has given Commercial Estates Group the OK to develop its proposals for a six-acre site in the South Bank district of the city.
The scheme (pictured) is located off Globe Road and Water Lane and was approved in April this year by Leeds City Plans Panel as part of a proposed £350m regeneration scheme.
CEG, which with Wates is also developing a 57-acre site at Kirkstall Forge in the north of the city, will start work next month on the Feilden Clegg Bradley Studios-designed job. FCBS also designed the Kirkstall Forge scheme.
The South Bank project has planning for two office developments with ground floor retail and leisure totalling up to 26,100m², plus outline planning permission for a mixed-use development of up to 103,900m² of offices, retail, leisure, hotel, health, education and community uses, parking and up to 750 new homes, along with new public spaces and landscaping.
Buildings at the development will range from five to 40 storeys.
Others working on the scheme include project manager Pierre Angulaire, cost consultant Turner + Townsend and building services consultant Hoare Lee.