Country's biggest contractor could be asked to bring out new version of annual report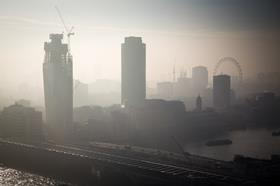 Balfour Beatty has been reported to the Financial Reporting Council – for not mentioning climate change enough in its latest annual report.
London firm Client Earth, a not-for-profit legal practise, said scant reference to climate change in Balfour's annual report contravenes the contractor's responsibility to report on business risks to its investors.
In a 35 page submission to the City watchdog, Client Earth said because of the amount of greenhouse emissions associated with sectors such as construction, the country's biggest contractor is particularly exposed to climate-related financial risks.
It said: "Balfour Beatty's business is materially exposed to the trends and risks associated with climate change and the low carbon transition."
But it said other than a "brief discussion" of reducing carbon output "Balfour Beatty provides no meaningful discussion of any risks or trends associated with [both]".
It added the firm had reported that it was taking measures to mitigate the risks of climate change. "However, no information or detail is provided about what these risks might be for Balfour Beatty's business."
Client Earth said many of Balfour's peers, including Vinci, Bam and housebuilder Barratt, have substantially addressed the issue of climate change, making Britain's largest contractor "a clear outlier among its peers".
The complaint will be dealt with by the Financial Reporting Council's conduct committee, who can apply to court to compel a company to publish a new version of its report.
Client Earth also wrote to Balfour Beatty's auditor, KPMG, asking them to clarify their position on climate change and financial reporting after they signed of Balfour's annual report, which covers the 12 month period up to December last year.
In a statement the contractor said: "Balfour Beatty is fully committed to addressing climate change risk and continues to position sustainability at the heart of all that we do."
Our overall environmental performance and metrics are publicly available through our Annual Report and on our website and show that our carbon emissions are reducing as we continue to work actively to mitigate climate change risks."