Loss at European construction business follows problem jobs and restructuring costs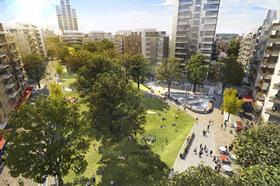 A poor performance by Lend Lease's European construction arm has dragged down its results for the region, in full-year results to 30 June 2013 published today.
Lend Lease's European construction arm reported a £8.7m after-tax loss, compared to a £12.3m after-tax profit last year, while the division reported revenue of £510.5m, down 20% on the previous year's £639.7m.
The construction arm's figures dragged down the firm's overall European performance, with overall after-tax profit down 2% to £57.6m from £59m, while revenue contracted 14% to £661.9m from £767.3m.
The firm blamed the construction loss on the underperformance of "some projects" in the second half of the year and the "cost of restructuring the UK business."
Lend Lease's European development arm's £100m sale of Lend Lease's 50% stake in the 150-acre Greenwich Peninsula scheme, which completed in July 2012 for a £25m profit, was the "main contributor" to European profit, the firm said.
Lend Lease is the developer and main contractor behind regeneration plans for Elephant and Castle in south London (pictured).
The Australia-based firm's global revenue and after-tax profit grew over the period, up 5.7% to £7.1bn and up 10% to £319.3m respectively.