Lend Lease is looking for architects for the next stages of its redevelopment of Elephant & Castle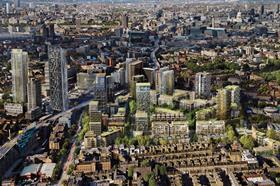 Lend Lease is seeking architects for the next stages of its redevelopment of Elephant & Castle, project director Rob Deck said at Mipim.
Lend Lease said it was currently short-listing architects for the second phase and actively looking for architects to design the third phase of the project.
The Make-designed masterplan for what will be one of the largest new housing developments in zone 1 London received planning permission from Southwark council in January.
By 2025, the scheme aims to deliver approximately 2,500 new homes, shops, restaurants and community facilities, and create over 5,000 jobs and central London's largest new park in 70 years.
Meanwhile, Lend Lease's project director for The International Quarter Matt Beasley said the developer would consider using consultants outside its architect, engineering and M&E frameworks as it works up plans for the International Quarter scheme in Stratford.
Lend Lease will act as main contractor on both Elephant & Castle and the International Quarter, the project directors confirmed.
Beasley said there had been increased interest in the 4m sq ft of available commercial space at The International Quarter since the start of the year.
Lend Lease is offering occupiers freedom to choose a scheme on the site anywhere between 150,000 sq ft to one million sq ft.
Beasley said a development partner for the hotel element of The International Quarter will be finalised by May, while the Allies and Morrison designed residential element is scheduled to go in to planning this year.
The firm is considering temporary uses for the site of up to "3-5 years" at TIQ, which is the gateway to Queen Elizabeth Park from Stratford Station.
The site is already confirmed for a UEFA Champions Leage festival for a week this summer. Lend Lease is considering temporary uses for other festivals, conferences and entertainment, educational or brand "experiences".
Meanwhile, Helen Fisher, programme director for Nine Elms, encouraged construction firms to get involved in the regeneration area's 26 projects.
She said interested firms would have to demonstrate 20% local labour supply and use of local supply chains.
She said: "There's a huge amount of opportunity. This coming year is a really big year for us with eight construction developments on site."
She said she expects a public enquiry on the Northern line extension by the end of the year, approval in 2014, on site in 2015 and open in 2019.