Construction work due to start next year on second stage of mammoth Elephant & Castle regeneration plan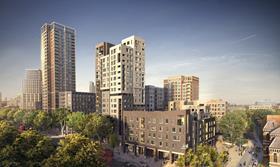 Contractor Lend Lease has won detailed planning permission for the latest - and so far largest - phase of its £1.5bn regeneration of Elephant & Castle.
Southwark council has approved plans for 593 new homes and 43,000ft2 of new retail space, which will be known as West Grove.
The retail space will include 22 shops, a shopping centre and a restaurant. The 593 homes will be situated around two new garden squares, including a 31-storey building that will be tallest structure across Lend Lease's scheme to transform one of London's most run down areas.
The 593 homes are expected to go on sale early next year, with construction expected to start later in 2015. The first phase of the scheme, containing 360 homes, was launched earlier this year.
Under the masterplan for the entire development, Lend Lease will build nearly 2,500 new homes between now and 2025.
Lend Lease has promised that all of the new dwellings will exceed level four of the Code for Sustainable Homes.
Rob Heasman, Lend Lease's project director for Elephant & Castle, said the approval of this phase "adds to the considerable momentum we are now building".