Preferred bidder on Thamesmead job to be named this summer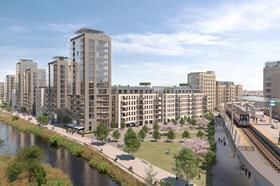 Peabody has shortlisted two developers for its £4bn Thamesmead Waterfront regeneration scheme.
Lendlease and Morgan Sindall are the final two bidders vying to work with the housing association to build 11,500 new homes in the London borough of Greenwich.
The winner, who will be chosen this summer, will also help transform 1m sq ft of town centre commercial and leisure space.
John Lewis, executive director Thamesmead at Peabody, said: "Both Lendlease and Morgan Sindall have an excellent track record of developing great places at scale and we are confident that their proposals in the next stage will reflect the unique setting of this opportunity."
The development is also set to benefit from London mayor Sadiq Khan's proposed extension of the Docklands Light Railway across the river from Newham to Thamesmead.
A concept masterplan for Thamesmead Waterfront was produced by architect Lifschutz Davidson Sandilands.
The site has 2.5km of undeveloped river frontage and extends to almost 250 acres just east of Woolwich. It currently features green space with open grassed and wooded areas, two major lakes and an existing town centre.
The scheme is the biggest undertaken by Peabody in its 156 year history.
Peabody has also announced a major refurbishment of existing homes on the other side of Thamesmead – investing at least £40m over 18 months in upgrading windows in 19 towers and improving energy efficiency on the South Thamesmead estate.