Firm warns pandemic will continue to have impact on bottom line
Lendlease racked up a near £21m pre-tax loss last year with the firm blaming the impact of covid-19 for sinking into the red.
Accounts for Lendlease Europe, which covers its work in the UK as well as some schemes in Italy and Latin America, said the firm slumped to a £20.7m pre-tax loss in the year to June 2021 from a £157,000 pre-tax profit last time. Revenue was down 8% to £764m.
It said a tax credit of £14m narrowed post-tax losses to £6.8m, which was 26% up on the £5.4m post-tax loss it filed in 2020.
The firm, whose jobs include refurbishing Manchester Town Hall, building the new Google headquarters at King's Cross and an office block in Croydon called Ruskin Square for Stanhope, said the "pandemic continued to impact the business with ongoing challenging operating conditions".
Lendlease, whose business is split between construction and development, said it continued "to see weakened demand for rentals and new apartment product, particularly in London. But with the easing of covid restrictions and increasing activity in urban centres we are starting to see demand return to these markets."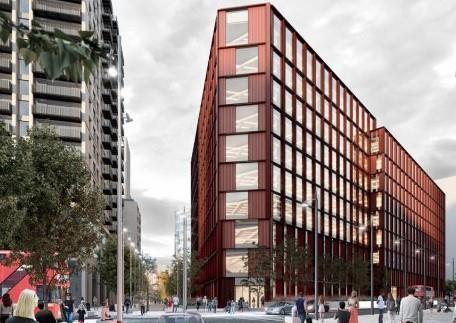 Revenue from its development arm dropped more than £100m to £79.4m
Construction revenue jumped 22% to £538m as stalled jobs restarted but it warned: "The pandemic has resulted in delays in new contract awards and project commencements which is expected to have an impact on future profits."
The accounts show the firm, which is due to move from its Regent's Place address to new offices at Merchant Square in Paddington later this year, has a £1bn backlog of construction work.
The average number of employees during the period was 1,300, down from 1,400 last time.
The company did not say how much it had received in furlough cash from the government's Coronavirus Job Retention Scheme but in the group's 2021 annual report Lendlease said it received AUD$10m (£5.7m) from this scheme and one in Singapore with the firm saying the payments from both programmes were received in the first half of the year. It added that it did not receive money from Australia's JobKeeper scheme during the year.
The highest paid director, who is not named, saw his income drop 5% to £855,000.
In the firm's group accounts Lendlease Europe chief executive Neil Martin, who is also a group executive, was paid a basic salary of £670,000 from September 2020, after being given a £120,000 pay rise after taking over the role from Dan Labbad in September 2019. His total renumeration for the period came in at AUD$1.472m (£843,000).