House of Commons expected to move into Richmond House by 2025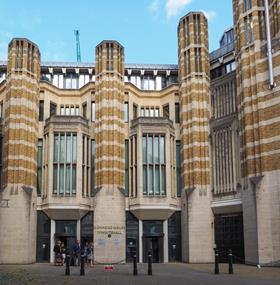 Lendlease has pulled off another high-profile win with the firm set to carry out work turning a former government building in Westminster into a temporary debating chamber for MPs while their Palace of Westminster home is refurbished.
The firm, which has begun on site to build the new Google headquarters building in King's Cross, has been appointed to carry out work on the former Department of Health headquarters, Richmond House, and turn it into a debating chamber and associated offices.
The department moved out of the 1980s building last year and in January MPs voted for the House of Commons to move to Richmond House (pictured) while work to overhaul the crumbling Palace of Westminster is carried out. Peers are due to move into the nearby QEII Centre in Westminster.
Work on the Palace of Westminster is not expected to start until 2025 at the earliest and will cost at least £3.5bn with Parliament operating from its temporary homes for around six years.
The latest win for Lendlease, which declined to comment, further underlines the firm's return to high-profile main contracting with the builder also working on a 43-storey tower scheme at 150 Bishopsgate in the City of London. Work is expected to start next year.
Richmond House is part of the £500m Northern Estate Programme which involves upgrading a number of offices across Westminster to house MPs and parliamentary staff while the Palace of Westminster is overhauled.
This part of the deal, which is being let separately to the Richmond House work, involves restoring and upgrading several grade I and grade II-listed buildings
They include the grade-I listed Norman Shaw North and grade-II listed Norman Shaw South buildings – both over 100 years old – and 1 Derby Gate and 1 Parliament Street – two grade-II listed buildings from the 1880s.
Most of the buildings have not been refurbished in over 40 years and so essential works are now needed to improve fire safety, building performance and M&E services.
Sir Robert McAlpine is already carrying out work to refurbish Parliament's iconic Big Ben with the £61m deal to renovate the Elizabeth Tower, as the structure is officially known, set to be completed in 2021.