New research reveals just 79 of 418 board appointments are female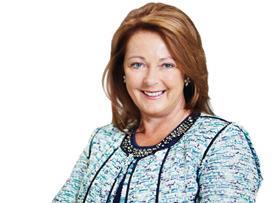 Men still dominate the top positions within the UK's biggest construction companies, with just 19% of the UK's 50 largest construction companies' board members being women.
According to research by law firm Clyde & Co, 79 of the 418 board members of the country's top 50 contractors and housebuilders are women, and of those only 25 held executive roles, with 68% occupying a non-executive director position.
Two construction firms have women in top jobs: Interserve's chief executive, Debbie White (pictured), while Fabienne Viala is chairman of Bouygues UK. But such high profile examples are rare.
Liz Jenkins, projects & construction partner at Clyde & Co, said: "It's pleasing to see that there is female representation on the boards of the biggest construction companies but there is clearly room for improvement, particularly at the executive level.
"One of the key issues currently facing the UK construction industry is the skills shortage and with Brexit on the horizon it is likely the situation will only worsen.
"Women are one of the greatest untapped resources across the world and construction firms should be focusing on how they can attract, retain and develop female talent at all levels in their organisations. This would increase the skills base and allow construction firms to increase the diversity of thoughts and ideas within their organisations."
Charlie Urquhart, employment partner at Clyde & Co, says: "It's clear that diversity at the top is an issue being addressed by these businesses. By hiring female non-executive directors they are able to have female representation in the board room.
"However, it also suggests there could be a lack of female talent at senior levels within their organisations who can step up to board level. Dealing with this internal pipeline shortage is key to long term success and diversity."
The firm said gender pay gap reporting would also throw a spotlight on women at the top of the corporate ladder.
According to the government's database, 41 companies operating in the construction sector have reported their gender pay gap figures.
Firms with 250 or more employees have until 4 April to publish their gender pay gap figures, based on a 'snapshot' of figures as they stood on 5 April last year.
Urquhart said: "Across all industries gender pay gap reporting is helping to focus the minds. As expected, the majority of companies' data shows that there are more men in senior positions, which in turn leads to a wider gender pay gap."
"Continued focus and determination is needed across all industries to improve diversity in senior roles. Construction is no different."