TV studios where Coronation Street was filmed to become an "event hotel"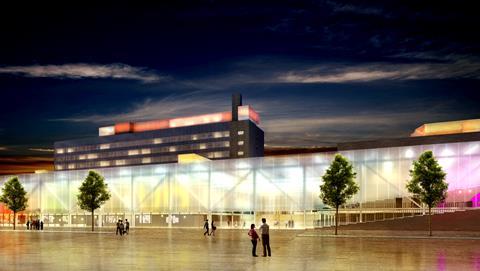 Architect Levitt Bernstein has been commissioned to convert Ralph Tubbs' Granada Studios in Manchester into a 200-bed hotel.
The concept is for an "event hotel" known as the Manchester Grande, which client Allied London claims is the first of its kind in the UK.
The TV studios and production spaces where Coronation Street, Brideshead Revisited and World in Action were filmed will become a series of performance venues for live entertainment.
The hotel is a key part of the city's new St John's development on 10 hectares between Spinningfields and Castlefield.
Within this, Ian Simpson is masterplanning the Granada Studios site and Buckley Gray Yeoman has already been appointed to refurbish a historic warehouse next to the studios.
Tubbs' original interior will be stripped back to expose the original architecture and the façade will be restored.
The existing worn blue panels will be replaced with opaque, plain glass panels to match the originals.
A new secondary façade will create a double skin and form an internal winter garden for each bedroom suite.
An apartment on the ninth floor will be removed and replaced with a public bar named after Granada's original font, Clarendon.
A couple of buildings will be removed and replaced with a glazed link between the St John's Quarter and Great John Street and beyond to Deansgate.
A secondary pedestrian route will be formed at the rear of the existing studios in a space nicknamed the M1 in the studio's heyday.
Covered with a translucent roof, it will link the hotel and music venues and will provide space for temporary exhibitions and more casual performances.
Gary Tidmarsh, chairman at Levitt Bernstein said the design "taps into both the building's significant architectural and cultural history and its role as a driver of urban revival".
He added: "Granada Studios, in its day, was the most famous television studio after the BBC Television Centre. The creation of St John's, with the exciting concept for the Manchester Grande at its heart will preserve the studios as a key part of Manchester`s heritage and cultural destination."
This story first appeared on Building Design