Party says homes will be built along route of a reopened Oxford to Cambridge train line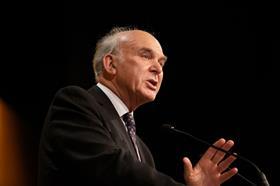 The Liberal Democrats have pledged to boost apprentice pay and build 50,000 homes in garden cities if the party is elected to government at the next election.
At the Liberal Democrat conference today in Glasgow business secretary Vince Cable unveiled plans to raise apprentice pay by more than £1 an hour.
Cable said he hoped the move would encourage more people to take up apprenticeships.
The plan will see apprentice pay rise from £2.73 to £3.79.
Liberal Democrat leader Nick Clegg is also expected to pledge to build 50,000 new garden city homes along the route of a reopened Oxford to Cambridge train line.
He will say: "Housebuilding is stuck in the doldrums, with nowhere near enough homes being built to meet demand and keep prices affordable for those families desperate for a home of their own.
"Garden Cities are a vital cornerstone of our plan to boost house building to 300,000 homes a year – enough to meet demand and keep prices in reach – while still protecting our precious green space and preventing urban sprawl. Our plan is to build a series of high quality new towns and cities where people want to live, with green space, sustainable transport and spacious homes."
He is expected to say that the Conservatives have had "held back the development of garden cities" but that the Liberal Democrats wanted to see five built along the Oxford to Cambridge route and five elsewhere.