Durham University has picked renowned international architect Daniel Libeskind design a new building for its physics researchers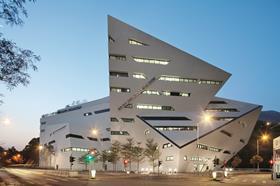 Daniel Libeskind, of Studio Daniel Libeskind (SDL) masterplanned the Ground Zero development in New York, as well as the Jewish Museum in Berlin, the Imperial War Museum North in Manchester, Denver Art Museum and the Run Run Shaw Creative Media Center in Hong Kong (pictured).
Libeskind will design a new landmark building for Durham University's Ogden Centre for Fundamental Physics, which houses the university's Institute for Computational Cosmology and Institute for Particle Physics Phenomenology.
The Ogden Trust, founded by Sir Peter Ogden, an alumnus of Durham's Department of Physics, is a major donor to the project, and other alumni have invested in the project as well.
The building will be located next to the current Physics building on South Road, Durham.
The current timetable for completion is by December 2015, subject to planning permission.
Professor Martin Ward, head of the department of physics at Durham University, said: "We are very excited to have selected renowned architect Daniel Libeskind to design this building, which we believe will be an asset not just for Durham University but for Durham City itself.
"It is intended that the building will complement the traditional buildings and landscape and it will also meet the highest industry standards for sustainability."
Daniel Libeskind said: "Durham University is a place with both great history and great vision. I am delighted to have been selected to design the new Department of Physics building.
"This building will serve as a state-of-the-art facility and will be an exciting new presence in the cultural and educational scene of Durham."