Labour takes Hammersmith and Fulham council on platform to protect council homes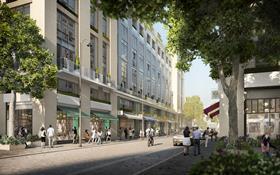 The planned £8bn redevelopment of Earls Court could be in danger after Labour took control of Hammersmith and Fulham council in a shock election victory last week.
The council has moved back under the control of Labour - which ran on a platform to protect council and affordable housing in the area - after it snatched 11 seats from the Conservatives.
The Earls Court regeneration scheme requires demolising two council estates of 700 properties in West Kensington and Gibbs Green Estate, provoking opposition from the blocks' residents and campaigners.
Labour's manifesto pledged to "take immediate measures to protect council homes" and "work with council housing residents to give them ownership of the land their homes are on", pledges widely seen as being aimed at gaining support from residents opposed to the Earls Court scheme.
Stephen Cowan, the new Labour leader of Hammersmith and Fulham, told the BBC some planned developments in the borough would be scrapped following the party's election victory, but declined to say which.
Residents of the West Kensington and Gibbs Green council estates who are opposed to the Earls Court scheme argue many of the proposed replacement affordable homes will be too expensive because they will be rented at 80% of the market rate.
Jonathan Rosenberg, community organiser at the People's Estates campaign against the Sir Terry Farrell materplanned development said he had "no doubt" that the development would now be stopped or substantially changed.
"The residents are jubilant and feel extremely relived," he said. He added the "horrible threat" of the development had now been lessened.
Developer Capital & Counties Properties PLC (Capco) pointed out that it already had detailed planning permission and a contract from the council for the sale of the land it needs to build the development.
But Rosenberg said: "It's one thing to have contract but contracts really depend on the willingness of both parties and we now have a council that's not willing in enforce the contract and will do whatever it can to get out of it."
The overall scheme covers 77 acres and will include a 7,500-home neighbourhood, along with offices, leisure, hotel and retail space, a primary school, library, an integrated health centre and five-acre public park.
The Earls Court regeneration scheme also covers part of the Royal Borough of Kensington and Chelsea, which remains a Conservative controlled council.