Red due to finish work at Angel Central by November
A scheme to revamp a north London shopping centre left in the lurch by the collapse of Simons last autumn has appointed local contractor Red Construction to complete the job.
Work on the £8m Angel Central scheme, off Upper Street in Islington, ground to a halt when the 75-year-old firm called in the administrators.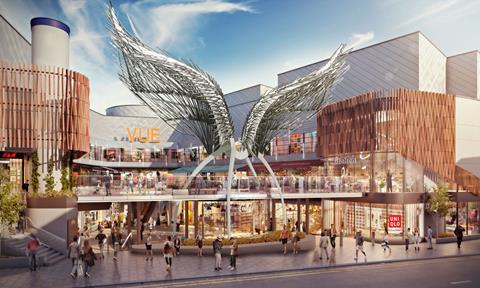 Farringdon firm Red was then drafted in on a temporary contract to finish off the first phase but the deal for the remaining phase has now been formally confirmed by the shopping centre's owner CBRE.
The scheme, which pulled off a coup last summer when it announced Japanese fashion retailer Uniqlo was moving in, had been largely due to complete by Christmas last year.
The shopping centre will reopen next Monday after the covid-19 lockdown with Red completing work on the second phase by November this year. This includes putting back a 12-tonne Angel Wings sculpture as well as building a new pedestrian link bridge and balcony extensions to the first-floor walkways
The expansion of the shopping centre, designed by Haskoll, also includes a new lighting scheme, upgraded flooring and three new restaurants.
Red, which was set up in 2015, said it focuses on schemes worth between £5m and £25m in the central London area. In the year to March 2019, it posted a £15m turnover.
Others working on the scheme include development manager Queensberry, structural and services engineer Aecom and cost consultant Henry Riley.
Earlier this week, Simons' administrator said around 600 creditors have sent in claims totalling more than £13m.
But the figure is around a quarter of what FRP Advisory said was owed by the Lincoln firm to unsecured creditors in January – suggesting many have given up on getting back anything they are owed.