DSM Demolition starts tearing down former university site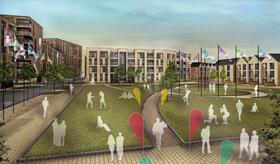 Birmingham-based demolition specialist DSM Demolition has started work on the site of the Birmingham Commonwealth Games village.
Work got underway this week at the former Birmingham City University site which will be home to 6,000 athletes during the 2022 Games.
The village (pictured), which will include accommodation, dining, medical, transport and essential services for athletes and team officials, will be situated on the 24ha site which is set off the A453 Aldridge Road.
It is part of a wider housing programme in the Perry Barr region of the city that is expected to deliver up to 3,000 new homes in the area.
The race to build the village is also hotting up, with the contractors who expressed interest in the £350m job waiting to hear which four firms will be invited to tender.
The six-year contract, which is being let by the city council in conjunction with Homes England, will see the winning firm build the village, before converting it into a permanent residential development.
After the Games, the accommodation will be made available as a mixture of homes for sale and market rent as well as for social and affordable rent.