Darling Associates snaps up hotel specialist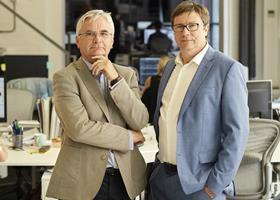 Architect Darling Associates has unveiled plans to increase its staff numbers and regional profile by acquiring existing firms – the first of which will see it opening a Manchester base.
The practice, which has 90 staff in offices in London and Poland, has bought Wilmslow-based Architect CT, which has around 30 staff, and will move the firm 10 miles north to Manchester.
Managing director Chris Darling said hotel and hospitality specialist Architect CT was snapped up "lock, stock and barrel" from director Paul Brook, who is expected to remain with the firm over a two-year transition period before retiring.
Darling said the practice is also considering establishing offices in Edinburgh and the South-west, with a view to growing staff numbers to 200 within the next five years. "Our business has been doing extremely well over the past couple of years, and we wanted to keep our foot on the gas," he said.
Darling Associates' most recent annual accounts, published last July, reported turnover of £6.31m in 2016/17, a rise of 26% on the previous year to March 2016. Pre-tax profit was up 52% to £1.53m.
Darling added: "To get into a local market, you really must be there. They don't want to deal with people who are commuting up and down on trains.
"We've got live projects in Bristol, Exeter and Plymouth, and they're all substantial – £40m, £60m, £80m projects – so we've got enough workflow to justify a studio down that way."