Boroughs write to tenants and outline checks being made on properties following Grenfell fire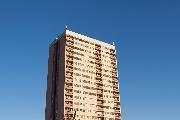 London councils have been rushing to reassure housing tenants that their properties are safe, following Wednesday's disastrous fire at Grenfell Tower in Kensington, which has claimed the lives of at least 30 residents.
In a statement Tower Hamlets, which has 900 tower blocks, said it had written to all residents to reassure them that safety "is the council's number one priority and set out the practical steps they can take to protect themselves from unnecessary fire risks.
"Most of our tenanted flats have smoke detectors installed and many have new fire-rated front doors. We will be renewing more fire suppressing front doors for tenants later this year," it added.
In Newham a spokesperson said: "We take fire safety very seriously and have robust measures in place to ensure residents in tall blocks are kept safe. All of our buildings are subject to strict fire risk assessments with remedial action if required. Following the fire in Kensington and Chelsea, we are carrying out further assessments on our tall blocks to see if any action needs to be taken.
"In addition to the fire risk assessments, significant work has been done to make sure our properties are as safe as possible. Smoke alarms are fitted in every individual flat and house as standard. All new tenants are provided with fire safety advice when they sign up to a new tenancy."
South of the river, Greenwich council said there were 93 high rise blocks across the borough, six of which were 24 storeys high and had external cladding.
"We are carrying out additional checks on the cladding materials used for external wall insulation on eleven of our high rise blocks," it said. "So far, we have confirmed that the materials used in five of the blocks meet the 'Class 0' fire safety standard, relating to the spread of flame across a surface, meaning that it protects the surface from the spread of flames and limits the amount of heat released from the surface during a fire," its statement went on.
In Lambeth Councillor Lib Peck sought to reasure many residents "who might have concerns about the state of the councils housing blocks. Lambeth officers have confirmed that all Lambeth Housing structures have an up-to-date fire risk assessment. There are a range of actions required as a result of the assessments which are being followed up – and blocks are being prioritised," she added.
She said the director for housing services was also discussing further actions with the council's health and safety team, including reviewing blocks that were similar to Grenfell Tower in construction; confirming the existence of an up-to-date risk assessment, and liaising with the London Fire Brigade "to discuss evacuation procedures and ensure notices in blocks are renewed or updated where required".
Boroughs across the capital have given the go-ahead to more residential towers, many of which are in excess of 20 storeys in height, to alleviate the shortage of housing.
According to the fourth annual London Tall Buildings Survey, carried out by the NLA and property consultant GL Hearn, 152 new towers over 20 storeys or more will have been built by 2019 – just six years after the original survey was completed.
At the time, Building reported that a total of 455 tall buildings were in the planning pipeline, with the survey estimating they have the potential to deliver 100,000 homes.