Analysis from Arcadis ranks London as second only to New York worldwide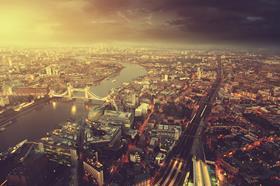 London is the most expensive city in Europe and the second most expensive city worldwide in which to build, according to the latest International Construction Costs Index published by Arcadis.
The Index reports that opportunism by contractors plus limited bidding resource has driven up construction prices in the capital meaning the cost for the construction of a five star hotel in London is 20% above that in Paris and 50% higher than in Dubai.
Yet despite the increasing costs London remains an attractive market to international investors who, along with strong domestic demand, are driving growth in bidding opportunities.
Demand is though filtering out to sub-prime areas of the capital as prime areas are no longer profitable to build on.
The Index from Arcadis analyses the relative costs of construction across 44 major cities and has ranked New York as the world's most expensive place to build closely followed by London, while Bangalore and Taipei are the cheapest.
Arcadis UK client development director Simon Light said: "In London, the recovery is losing momentum. With inflated construction costs and high land values threatening the viability of commercial and residential development, workloads look to be losing steam even before the capital's infrastructure boom really takes flight.
"Delayed investment decisions are reducing actual workload and we are seeing early signs of a return to reason in procurement. There is now much more focus on agreeing prices prior to starting on site, ensuring no loss of value should current construction volumes be maintained. We expect to see the rate of inflation fall to 4-5% in London for 2016 and for a real opportunity to 'reset the dial' on projects coming forward in 2016 and 2017."
The most and least expensive for construction according to the index are:
Rank
City
Rank
City
1
New York
35
Jakarta
2
London
36
Sofia
3
Hong Kong
37
Sarajevo
4
Geneva
38
Prague
5
Macau
39
Bucharest
6
Copenhagen
40
Ho Chi Min
7
Stockholm
41
Kuala Lumpur
8
Frankfurt
42
Bangkok
9
Paris
43
Bangalore
10
Singapore
44
Taipei