Deloitte Real Estate figures show lack of office availability in central London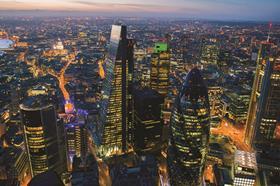 The amount of office space available to rent in Central London has fallen by 14% over the last 12 months and 48% since the peak in 2009, according to the latest figures released by Deloitte Real Estate.
Deloitte's end of year research figures show central London now has the lowest level of office availability since 2009.
Chris Lewis, head of tenant rep at Deloitte Real Estate, said: "All of the core Central London markets have seen a decline in available space in 2014. In fact the West End's vacancy rate is now critically low at just below four per cent."
Of the submarkets across the West End, Victoria has seen the greatest decline in available office space, falling 46% in 12 months.
However, the City of London market has not seen as dramatic a decline in available space, hovering around five million sq ft throughout 2014, but still remains at its lowest level for seven years. This is despite over 3 million sq ft completing construction during 2014 - a new high.
Lewis added: "We expect strong occupational demand to remain during 2015 with a limited development pipeline. We anticipate 6.3% rental growth in the City and 8.7% in the West End over the next 12 months on prime Grade A buildings. In some areas where we are seeing very low levels of available space, we could see pockets of super-growth."