More than half of schemes are major refurbishments
The number of construction starts in London has jumped by 20% in the six months to March 2021, with 32 new schemes covering 3.1 million sq ft of office space.
The figures, revealed in Deloitte's latest London office crane survey, also revealed that 56% of this pipeline was expected to involve an extensive upgrade of existing office stock in response to the pandemic.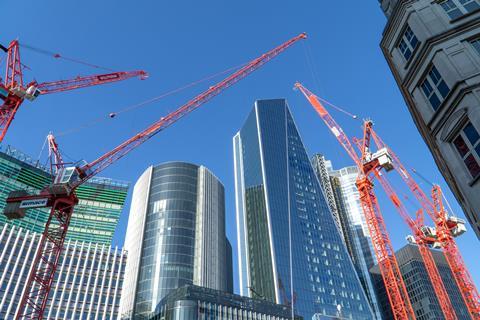 Mike Cracknell, director in real estate at Deloitte, said: "Many existing office buildings are capable of being turned into covid-safe and high-quality workspaces, so it is unsurprising that developers are following the more sustainable path of refurbishments.
"Occupiers' needs are shifting and buildings that meet their ESG principles while taking into account the welfare of their people are at the top of their minds.
"Grade A, well-connected and eco-friendly office spaces, designed to maximise the benefits of new ways of working will be the most desirable."
The survey also found that 4.5 million sq ft of development was delivered between October 2020 and March 2021, the highest level of completions in 18 years, with 59% of it pre-let.
Developers surveyed said they anticipated new working patterns would reduce office demand on average by 10% to 15% in terms of square footage, offset by growing requirements for lower density occupation, less hot desking and more collaborative space, all of which will require additional space.
Cracknell added: "The volume of new offices in construction has only dropped by 9% since the last survey to 13.7 million sq ft, buoyed by the quantum of new starts, and remaining well above the long-term average of 10.9 million sq ft.
"With more than half of developers looking to increase construction pipelines in the next six months, central London office construction is very much alive."
Office demand remains a challenge to new development, however, with the developers' sentiment survey showing that 85% of respondents pointed to weak tenant demand for office space as a major concern in the London market.
But signs of optimism are emerging, with developers interviewed in March 2021 more positive about the lettings market than in September 2020, when 43% respondents said that office demand was worse than in the previous six months.
Comparatively in March 2021, no respondent said the leasing demand had worsened and 57% felt demand had improved, with the remaining 43% suggesting it stayed the same compared to six months earlier.
The share of technology, media and telecoms pre-lets in all space under construction increased to 40%.
Although there was a small increase on the previous survey, published in November 2020, the financial services sector accounted for a smaller proportion, or 16%, of pre-let space under construction.
This survey also observed a higher level of new speculative development, 81% of schemes in the six months to March 2021, signalling confidence from developers in the prime office market.
London area breakdowns
New office starts in the West End almost doubled on the previous survey, with 0.9 million sq ft breaking ground across 14 new developments. Almost two-thirds of new starts were new-build projects, including the three largest new construction starts in the submarket.
Midtown was another submarket with an uptick in new construction starts this survey, with 0.9 million sq ft commencing across eight schemes.
The City, which witnessed a high volume of new starts in quarter one 2020, has since seen a steady level of new construction at 1.3 million sq ft
There were no new starts reported in Southbank, Docklands, Paddington or King's Cross.