Mayor of London launches planning guidance to restrict office-to-resi conversions in the capital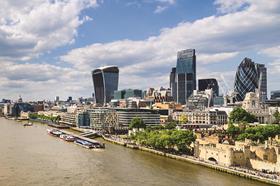 The mayor of London Boris Johnson has published new planning guidance aimed at protecting London's commercial heartland.
London's 'Central Activities Zone' – spanning 13 square miles from Kensington Gardens to Aldgate and from Kings Cross to Elephant and Castle - is to be given protection to ensure the pressure for new homes in the capital does not come at the expense of business and culture and protects the area as an economic driver.
The guidance is aimed at planners, developers and local authorities and states that new residential development is not appropriate in the City of London and the northern part of the Isle of Dogs.
It also includes "more stringent criteria" to prevent the loss of office space and pinpoints areas where priority should be given to commercial use over new residential developments. These areas include the West End, Kings Cross, London Bridge, Waterloo and the emerging Tech City cluster.
The special planning regulations, known as Article 4 directions, are being brought forward to ensure London's local authorities can continue to evaluate planning applications for change-of-use from May when the government will lift an exemption on office-to-resi conversions in central London without planning permission.
New homes can still be built in specific parts of the capital and old housing renewed under the new guidelines, which also promote a desire to spread student housing away from central London.
Johnson said it was "vital" office space in London is protected so that London can continue to be a "key generator of economic prosperity".
Deputy mayor for planning Sir Edward Lister said: "The Central Activities Zone is one of the jewels in London's crown and this detailed planning guidance will help to safeguard it for years to come by taking a sensible and sensitive approach to the differing needs of residential and commercial pressures."