Celebrity backer defends controversial project and pleas for fresh private funding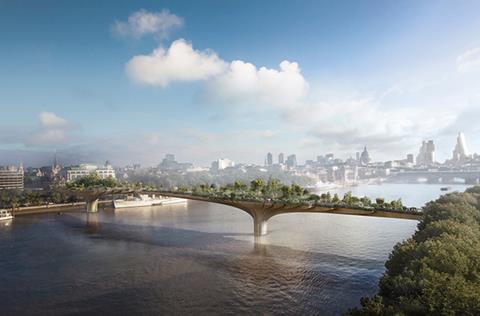 Actress Joanna Lumley has mounted a defence of London's "uniquely lovely" Garden Bridge project and made a fresh plea for private funding.
In a column in the Sunday Times, Lumley – who is a trustee of developer and charity the Garden Bridge Trust – explained how she believed the Thomas Heatherwick-designed structure would be positive for the capital.
She wrote: "We know there are many people who might like a slower way to cross over the Thames, a quieter way where you could hear only the distant roar of traffic and the rush of water below.
"Maybe you will see a bird or two, some bees or insects, and hear the rustle of grasses and leaves, smell the scent of flowers.
"The Garden Bridge will be something uniquely lovely in the world."
Lumley said the bridge's aim was "primarily" as a "useful extra crossing of the Thames for people on foot or in wheelchairs". She said the Trust was continuing to "ask for donations" from private funders.
The future of the £185m project – which contracting joint venture Bouygues and Cimolai had expected to start this summer – was thrown into further doubt last month when London mayor Sadiq Khan ordered a review of the project.
Margaret Hodge MP, former chair of the public accounts committee, is leading the review, which will look in detail at whether value for money has been achieved from taxpayers' £60m contribution to the project.
Lumley said the Trust would work "closely" with Hodge on her review. She said: "All the money spent is accounted for and of course the trustees haven't touched a penny of it for themselves."
Lumley also listed the work that has been carried out over the past three years on the project: "Detailed plans have been drawn up on design, engineering and planting, how the bridge will be run and maintained, how it will be staffed and managed, crowd and pedestrian plans, environmental assessments, public consultations, business plans, negotiations to acquire the land, conducting river exploration to make sure it is safe to build, obtaining marine licences, ground investigation work, working with Thames Tideway Tunnel to ensure there are no clashes during construction and work in Italy on the bridge itself, which ultimately will come up the Thames on barges from Tilbury to be lifted into place."
The Trust believes construction work is "likely" to start next year.