Exclusive: Reynolds claims revenue will increase to nearly £1.3bn and outlines plans to unite consultancy and international business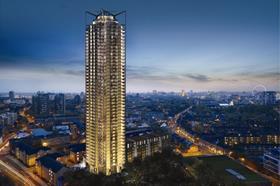 Mace's chief executive has disclosed that the firm expects to grow by 15% this year with revenue rising to nearly £1.3bn.
Speaking to Building in his first interview since taking over from Stephen Pycroft as chief executive earlier this year, Mark Reynolds said Mace expects to achieve 15% growth in 2013, with revenue rising from £1.1bn in 2012 to about £1.27bn, and pre-tax profit jumping to about £32m from £28m last year.
Reynolds said around 72% of the firm's revenue - about £914m - would be from the construction business, up from £829m in 2012, with the firm's growing facilities maintenance business turning over 8% of revenue, or around £100m.
Reynolds said the firm had combined its international and consultancy arms this year in a drive to grow the consultancy business. This was prompted by the amount of overseas consultancy work the firm was winning, such as the £72m five-year joint venture deal with EC Harris to programme manage the Qatar Public Works Authority's vast programme of social infrastructure.
The consultancy business is expected to turn over about 20% of revenue this year, or about £270m, up from the £263m that the consultancy and international business together turned over last year.
Reynolds detailed how the firm plans to boost turnover to £2bn by 2020 and grow its consultancy business into a £800m-turnover operation. He said it required year-on-year growth of 7.5% - less than the 11% annual growth the firm has achieved since 2006.
He added that the firm was targeting the residential sector, which comprised about 10% of construction revenue last year, particularly the private-rented sector, with the recent Newington Butts contract win (pictured) a "big game changer" for the firm.