Contractor will build One Bedford Avenue office block close to Tottenham Court Road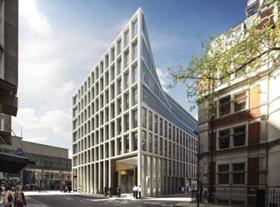 Mace has been confirmed as contractor on a £33m office building in London's West End for client Exemplar.
Exemplar is developing Bennetts Associates-designed One Bedford Avenue in partnership with Ashby Capital.
The 115,000 sq ft scheme close to Tottenham Court Road is scheduled to complete in 2017.
The project is targeting a BREEAM Excellent rating for the commercial space and Very Good in the retail units. Sustainable measures incorporated into the design include green roofs, photovoltaics and CHP.
Mace is already working with Exemplar on Regent Street at 1 New Burlington Place and 10 New Burlington Street.
Exemplar's founding director Clive Bush said: "Exemplar, together with our partners AshbyCapital, are excited to be working with Mace to deliver this landmark building in probably the most dynamic location in London.
"The development strengthens our investment in the area and helps underpin the unprecedented growth of Tottenham Court Road and the eastern end of Oxford Street."
Mace's chief operating officer for construction, Gareth Lewis, said: "This is a fantastic project for Mace and we're delighted to be working with Exemplar on another high quality, high profile development in London's West End.
"With Crossrail due for completion shortly after One Bedford Avenue, the scheme will be a major new addition to the Tottenham Court Road area."