Firm joins McAlpine, O'Rourke, Wates and Morgan Sindall in turning to two-week old government initiative
Mace is the latest contractor to furlough huge numbers of employees in an extraordinary 24 hours which has seen close to 4,000 staff in the industry told they will be switching to the government's job retention scheme.
Sir Robert McAlpine is expected to unveil more details of its decision to furlough the majority of its 2,000 staff next week while yesterday evening Wates and Morgan Sindall (see below) both furloughed 1,000 staff each.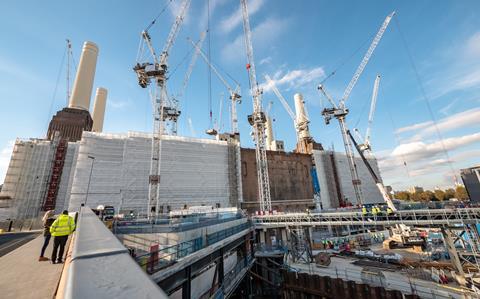 Now Mace has confirmed that it took the decision to furlough over 800 of its 3,500 staff on Wednesday – and is understood to be looking at furloughing even more employees in the coming weeks if required.
The fir m said it would top up the salaries of furloughed workers and a spokesperson added: "All Mace colleagues will remain on full pay during furlough."
The coronavirus pandemic has forced Mace to shut down its 90 construction sites – the majority of which are in London – until next Tuesday at the earliest by which time they will have been closed for two weeks.
The spokesperson added: "While our teams are pushing to quickly establish new ways of working that will allow us to open our sites safely, in the interim it is necessary for us to use the [furlough] scheme."
The firm has not yet introduced company-wide pay cuts unlike a number of its peers including Kier, which is cutting the salaries of 6,500 staff by between 7.5% and 25%, and Laing O'Rourke which has told all 8,000 UK staff they will have their pay cut by between 20% and 30%.
But Mace's board has agreed to take a 40% cut in their renumeration packages and the spokesperson admitted: "The board is working hard to implement our contingency plans and develop strategies that will help our business to remain resilient in the face of these challenges."
Last month, chief executive Mark Reynolds said the cost of shutting down all its UK sites would hit the firm for £10m a week.
Others to furlough staff include Laing O'Rourke, Kier, Galliford Try and Costain.
The government's furlough initiative, announced two weeks ago by chancellor Rishi Sunak, allows impacted employees to receive up to 80% of their salaries up to a cap of £2,500 per month.
Morgan Sindall furloughs 1,000 staff
Morgan Sindall has joined the list of contractors furloughing huge numbers of staff with 1,000 of its employees set to be put into the scheme.
The firm employs 6,700 people – meaning 15% of its workforce will be furloughed.
Last week, the contractor warned the coronavirus pandemic would hit the firm's year-end profit with the firm adding: "Certain construction sites have already closed under instruction from the relevant clients and this is expected to increase across a number of divisions and activities. In addition, activity on other sites and projects is slowing and progress with some development schemes in the regeneration activities becoming more uncertain."
Furloughed staff are believed to come from the firm's property maintenance division – which requires workers to enter people's homes – and its Lovell housing business, with this part of the sector effectively shut down by the government last week.