Second meeting between the pair now due this week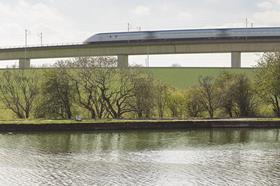 Mace has appointed a QC in its battle with HS2 over its move to appoint a rival bidder to a key contract on the second phase of the scheme.
A second meeting between the pair over the decision to appoint CH2M to the £170m development partner role that was scheduled to take place last week is now set to be held at the end of this.
It is then expected Mace will have to decide whether to accept the decision or begin legal action to try and get it overturned.
To underline how seriously the firm is taking the possibility of legal action, Building understands that Mace has brought in a QC as it mulls whether to go to court.
Mace is believed to be particularly concerned that its bid was compromised because of the recent decision by HS2 Ltd, which is responsible for building the network, to appoint CH2M European managing director Mark Thurston as its new chief executive.
Thurston joined earlier this month and replaces interim Roy Hill, who was himself seconded to the client from CH2M and will return to the engineer at the end of this month.
HS2 has still not formally awarded the contract to the US consultant CH2M nearly three weeks after it was supposed to.
HS2 chairman David Higgins brought in extra safeguards specifically for the contract CH2M eventually won to head off accusations of favouritism. These included an independent assurance panel and a special board sub-committee to review the process.
A HS2 spokesperson said: "We're in discussion with one of the bidders and will make a statement in due course."