City fringe scheme to replace 1950s office block and refurbish Victorian warehouse
Mace is being lined up to build a 13-storey office block in the City of London.
The firm has submitted a construction management plan for the 30-33 Minories scheme, which has been designed by 22 Bishopsgate architect PLP.
Designed for German developer Patrizia, it will be located on the eastern edge of the Square Mile on a 3,120sq m plot next door to PLP's head office.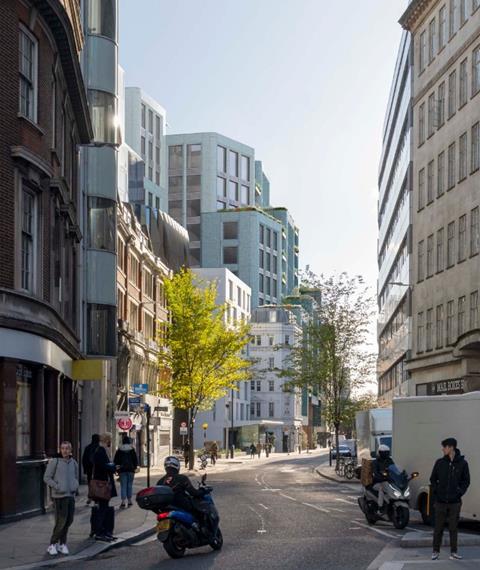 The scheme, which was sent in to the City for planning in April, will see the demolition of St Clare House, a 13-storey office built in 1956, and the refurbishment of an unlisted three-storey Victorian warehouse at 13 Haydon Street known as Writers House.
The project team includes Core Five on costs, AKT II as civil, structural and facade engineer, Sweco as fire consultant, Montagu Evans on heritage, DP9 on town planning and landscape architect Kim Wilkie & Gillespies.
Mace said the 17,300sq m scheme will take around three and a half years to build from first works to completion, and will be carried out in a single phase.
Enabling works and demolition of St Clare Houseis expected to take 14 months, followed by 12 months of piling, basement and ground floor slab work.
The superstructure will take around seven months to build, cladding 12 months, fit out 18 months, commissioning nine months and three months of external works, with an overall development time of 43 months.
PLP described St Clare House as a piece of post-war architecture "of no particular interest with a simple modernist facade of no distinction".
The building, a podium connected to a tower, was significantly refurbished in 2000, with the taller component clad in grey and white panels which PLP said "undermined the building's aesthetic integrity, resulting in a building whose individual elements do not relate to each other".
PLP partner and the scheme's lead architect Mark Kelly said the new block will create a "contextual building" with post-covid workplaces that centre around wellbeing and connectivity.
Writers house, one of the few remaining Victorian industrial warehouses in the eastern fringe of the City, will house affordable workspace for local businesses.