Firm's debut job is at residential scheme in Stratford
Mace has said it has no plans to set up its own manufacturing arm as it gets ready to formally launch its tech business later this week.
The firm will unveil its Mace Tech division at a residential scheme it is working on in east London called N06 East Village (pictured).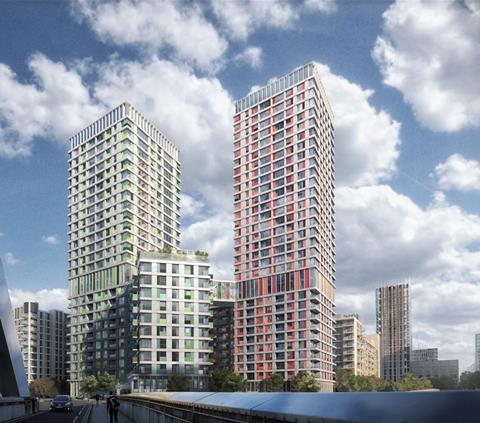 Designed by Hawkins\Brown, the Stratford job involves two towers of 31 and 26 storeys and is being developed by Get Living, the build to rent specialist whose partner members included Delancey and Qatari Diar.
Mace Tech director Shaun Tate said the business has been up and running since last year and has around 60 staff.
Tate, who reports into construction boss Gareth Lewis, said: "It's been in pilot mode for a little while but we're starting to get demonstrable results so now is the time to formalise it."
But he added: "There's no plans set up a specific factory or to become a manufacturer."
>> Projects: Mace's 'rising factory' at Victory Plaza, London
The firm has set itself a series of targets on N06 including reducing construction time by 25%, cutting waste by three-quarters and slashing transport to and from the site by 40%.
Tate said he had visited Australian offsite specialist Hickory as part of the launch and added: "Mace Tech gives us much greater control, hugely improved levels of certainty over cost, programme and quality."
The £180m N06 East Village is being built next to the Queen Elizabeth Olympic Park and will feature more than 500 homes. It also includes shops, bars and restaurants.
At the neighbouring N08 site, Mace used its Jump Factory technique of building which saw the firm put up a 36-storey tower and a second 26-storey tower in 18 weeks using a factory-style method to speed up work and reduce safety risks.